Arena
A downloadable game for Windows
Preheat oven to 190 °C. Beat 1/2 cup Retro 2D, mix in some Deathmatch and whip 1/4 cup Platformer until smooth. Bake it in the preheated oven for 9 minutes. Congratulations! You have just made Arena.
Arena is as far from a cooking simulator as it could be though. It is a simplistic game with one core mechanic above all else: shooting bots should be fun! The game combines a traditional smooth platformer movement with the action of shooters. Players can double jump or even rocket jump with proper equipment! Matches are fast-paced, but there is always a slow-motion button to smash when things are just about to fall apart.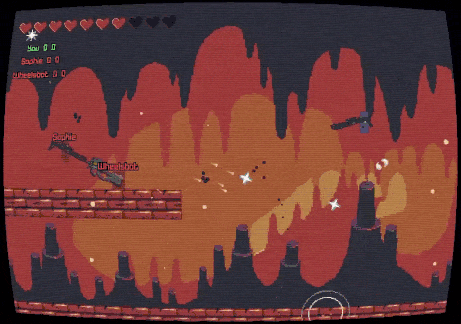 There is Deathmatch, Team Deathmatch, and for a change Last Man Standing as the three major gamemodes. Deathmatch greets players with quick respawn times, unlike its evil twin, Last Man Standing, where you only live once. (I am so sorry.) To spice things up there are four mutators that change the laws of a game by just a tiny bit - but it is enough for a completely different experience in your next match. Also, you can play on multiple maps, and there are multiple unique weapons - although it would be a shame if weren't.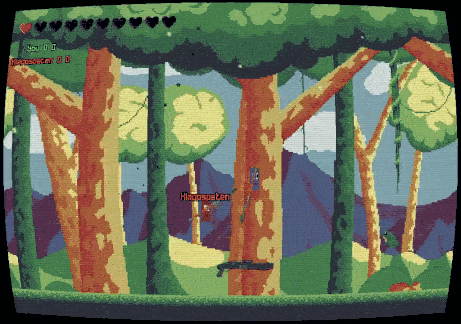 If you got the impression that the game has no goal, no story and is a complete chaos... well, you got me there, that seems just about right. There are achievements in the game though. I can promise there are none where you have to grind for ages. No 100 victories and no 1337 kills for a medal. Every achievement is very specific and you will probably have to come up with your own strategy and mutators to get them.
Arena is my first indie game - it is far from perfect. I am very much open to suggestions from you and the game will keep receiving free patches and content updates in the future. To kick off the game I will be adding either a new achievement or a new weapon every week. If you'd like to provide feedback, report an issue, ask something about the game or just insult the developer, you can do all of that here: https://devrand.me/arena
Yours Truly,
The Dev
----

System Requirements
Window 7/8/10 64bit
Negligible CPU, RAM and Disk Space
OpenGL 3.0 support
Purchase
In order to download this game you must purchase it at or above the minimum price of $2 USD. You will get access to the following files:
Arena-x86_64-1.0.18.zip
8 MB
Arena-x86_64-1.0.17.zip
8 MB
Arena-x86_64-1.0.16.zip
8 MB
Arena-x86_64-1.0.15.zip
8 MB
Arena-x86_64-1.0.14.zip
8 MB
Arena-x86_64-1.0.13.zip
8 MB
Arena-x86_64-1.0.12.zip
8 MB
Arena-x86_64-1.0.11.zip
8 MB
Arena-x86_64-1.0.10.zip
8 MB
Arena-x86_64-1.0.9.zip
8 MB
Arena-x86_64-1.0.8.zip
8 MB
Arena-x86_64-1.0.7.zip
8 MB
Arena-x86_64-1.0.6.zip
8 MB
Arena-x86_64-1.0.5.zip
8 MB
Arena-x86_64-1.0.4.zip
8 MB
Arena-x86_64-1.0.3.zip
8 MB
Arena-x86_64-1.0.2.zip
8 MB
Arena-x86_64-1.0.1.zip
8 MB
Download demo